Both of us want to choose our own vows and readings.
Do you allow that?
Absolutely! It's your wedding ceremony, you tell me what you want! Choose your own vows, readings/poetry, prayers, blessings, music, etc.
We don't want to be married in a church building. Is that okay?
Yes! Any dignified location is fine. I've done weddings in mansions, hotels, backyards, yachts, event centers, bed & breakfasts, Fort Snelling Memorial Chapel, etc. But there is one "location" I will refuse: skydiving - I'm afraid of heights!
I'm a divorced Roman Catholic. Do I need an annulment?
Unlike the Roman Church, Old Catholic Churches do not require an annulment for remarriage. In that respect, we are like the Orthodox Churches, who likewise do not require an annulment from a previous marriage.
Will the Roman Catholic Church "recognize" a wedding performed by you?
No. The Roman Catholic Church will not "recognize" wedding performed by anyone other than a Roman Catholic bishop, priest or deacon; not even by a former Roman Catholic priest as myself. However, anytime after I performed a wedding the couple may go to their Roman Catholic priest and request a "validation" - provided neither party has been divorced from a previous marriage (which will require an annulment.) With a "validation" the Roman Church will recognize a marriage.
Do you perform non-Catholic Weddings?
Absolutely! I offer inter-denominational, non-denominational and interfaith weddings also, regardless of religious affiliation. What matters to me is the love you have to offer one another and the willingness to have a new beginning in your life.
We want to meet you and talk about our ceremony.
Will there be a fee for that?
No charge for initial meeting.
I suggest the three of us meet in a restaurant like Perkins or a coffee place to chat and see if it's a "good fit." I usually meet couples at my local Caribou Coffee place, 2340 West 7th Street (at St. Paul Avenue), 55116 (Click here for map). If we all feel good about one another, I will ask for a deposit to "chisel" your wedding date in my calendar. The deposit is not refundable. I will also ask for all of us to sign an Agreement, so we all know who is responsible for what details of the wedding (i.e. music, location, marriage license, etc.). One copy will be for me, the other copy for you. You may also mail the agreement and deposit to me if you both need time to think about it. I will show you a sample wedding ceremony book I can print and hand bind for you. I will loan you a copy of an excellent wedding planning book, "Weddings From the Heart" to help you note your selections, as well as posting your own unique electronic form on the internet to send me your ceremony selections. You may also use material not found in that book When you use the e-form, I will e-mail back to you the selections you have chosen for proofreading and corrections.
Do you require pre-marital counseling?
No, I do not require pre-marital counseling. I offer optional pre-marriage classes, which will qualify you for a discount off your wedding license when you apply at a Minnesota county office. Check my pre-marriage classes page.
What are your fees and why are they so high?
I ask for an honorarium of $450 for a weekend wedding and $250 for a weekday wedding.
A weekday wedding is a simple ceremony without a rehearsal, but rather a quick "walk through" prior to the ceremony.

My fee is purchasing my time; the sacrament is free. I don't have a parish nor do I receive a stipend from the Roman Church (of which I am not affiliated), so my fee is my livelihood. Unfortunately my mortgage company does not accept prayers in place of monetary payment,
nor can I fill my car gas tank with holy water. (lol)

I'm sure you can find an officiant who is cheaper. He or she will function well and look after the necessary legal paperwork and even show up to perform the wedding (every year I get phone calls from desparate grooms asking if I could do their wedding NOW! because their officiant never showed up!). I perform FUN! weddings, MEMORABLE weddings! Many of my couples tell me in a follow-up e-mail that their guests said they never been to such a FUN wedding before!

Holiday weddings (Memorial Day, Labor Day, July 4th, New Year's Eve, Veteran's Day, and President's Day) are $500. No weddings on Christmas Eve/Day or Thanksgiving Day.

If your wedding ceremony is outside the metropolitan area, I ask for mileage re-embursement in addition to the honorarium. If your wedding/rehearsal location is outside the Twin Cities metro area, I ask for mileage both ways and if the wedding/rehearsal location is more than 45 minutes from my home, traveling time at $50 per hour both ways in addition to mileage.
If we decide to go with you, what will be the next step?
After I have received a deposit either at our meeting or by mail, I will post the e-form on the Internet for you to choose selections for your ceremony (mostly checking boxes, unless you have special material, which you type into a template) and I will mail you a loaner copy of "Weddings from the Heart".

When you use the e-form, I will e-mail back to you the selections you have chosen for proofreading. You may add other selections as time progresses and make corrections. Again, I will e-mail back your additions and corrections for further proofreading. We may go back and forth like this as many times as necessary to make your ceremony text exactly the way you want it.
No "surprises" on your weddings day! (Except for my humor!).

At rehearsal I will ask for the balance of my honorarium, the wedding license/marriage certificate, the loaned planning book, and payment for your personalized wedding ceremony book if you have ordered one.
(On your wedding day, there will be 1,001 small details to take care of at the last minute; the honorarium, the license and the loaned book will be three less details!)
Can you tell me more about the Wedding Ceremony Book you
offer as an option?
After the final proofreading of your wedding ceremony, I will do one of two things. If you have selected a wedding ceremony book on the e-form or paper planning sheet, I will print your ceremony book and bind it in a rich velour book material of your choice. If you do not want to have your own bound wedding ceremony book, I will use the text you have selected in an "all purpose" ritual book at the ceremony. The wedding ceremony book will be a lovely memento of your wedding. I will use it at your ceremony and you will keep it as a treasured reminder of your special day. The book is covered with French imported velour (velvet) book material and the pages are heavy classic linen paper with traditional glassine paper inserted facing the rich burgundy colored velour endpapers.

What about the rehearsal and wedding day?
I feel so strongly about a rehearsal that if you have a weekend wedding, the rehearsal is included in my honorarium. At the rehearsal I will have your wedding ceremony book, if you ordered one. Also at rehearsal, I will ask for your wedding license and loaned book (unless you have given them to me already), so that no one "forgets" on the wedding day. (Unfortunately I had to hold up a wedding once for the best man to get the wedding license at home!)

Whether you have a weekend or weekday wedding, I will arrive at your wedding about an hour before the ceremony to inquire of any last minute details, to help insure that other details are attended to (such as the wedding rings and the microphone, if there is one), to meet other members of you family and friends, and to be a "grounding presence" for both of you.


Dear Fr. Steve,
Thank you so much for the wonderful job you did with our wedding ceremony. You made it fun, kept it SHORT! (haha, our guests loved that) and everything we wanted, just like you promised. It was great.

We wish you all the best in 2010 and if/when our friends are ready to tie the knot, rest assured you will be rcommended by us! Take care,
Tyler and Andrea




At Bethany and Anthony's Wedding
Marshalltown, IA September, 2017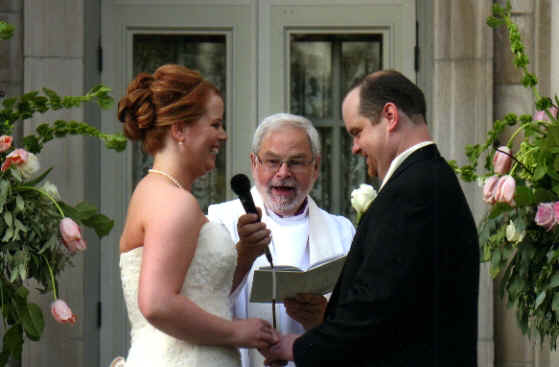 Thank you again for the wonderful wedding ceremony you performed for us last August. We received so many compliments that "Father Steve was fabulous!" We were so lucky to have you officiate on our wedding day. Have a wonderful Christmas and Happy New Year 2009. Love, Melissa and Joe.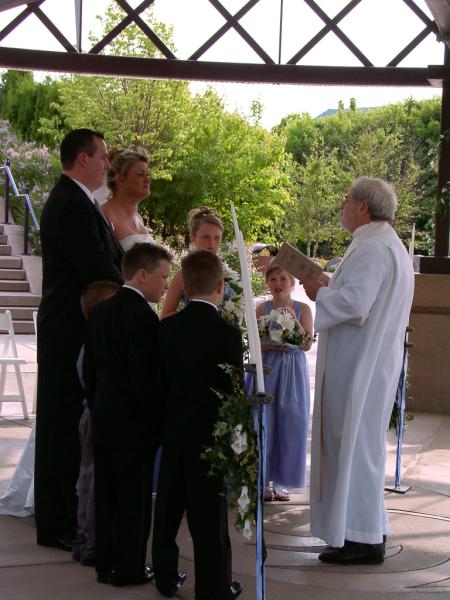 Thank you for making our wedding day so intimate and personable for us. Our ceremony was so beautiful. If I hear of any upcoming marriages, I will recommend your services without hesitation. So many of our guests told us it was the nicest ceremony they have ever been to. Kim and Phil
Father Steve allowed my husband and I to write our own vows and be as flexible with our ceremony as we would like. He also is very modern, with a tool to create what you would like in your wedding ceremony online. He also offers a service where he can create a book of your ceremony for you, that he reads out of the day of the wedding, that you get to keep as a awesome memorabilia from the big day. He was very funny, and actually kept the crowd interested in the ceremony. I have never seen anything like it. It was so fun. Laura, 2007. (Review from weddingwire.com)
We are so happy you were able to officiate our wedding. Having you there made the day so special and fun. We can't tell you how many comments we got from our wedding party and guests about how great of job you did and how much they enjoyed having you as a part of the day. We felt so honored that you stayed for dinner and said the blessing before the meal - we truly appreciate it. Thank you for being willing to work with us through our multiple rounds of revisions for the ceremony script and for helping us figure out the logistics for the rituals and readings during the rehearsal. We are so happy that we were able to receive a bound booklet of the ceremony and we will treasure it for years to come. We really hit the jackpot when we found you and will be recommending you to all of our friends who are or will be getting married and need an officiant or to take marriage classes. We would be happy to write a review for your website if you would like, just let us know. Thanks again from the bottom of our hearts, Ryan and MaryEllen, 2016
Thank you so much for presiding at our wedding ceremony. It was so nice and we had many, many compliments on it. We were so happy to find you, Fr. Steve, because we wanted our ceremony to be more than standing before a JP - we wanted a spiritual ceremony, but we were not willing to pursue annulments. You and the Old Catholic Church helped us fulfill that wish. Thank you very much! Dan and Lori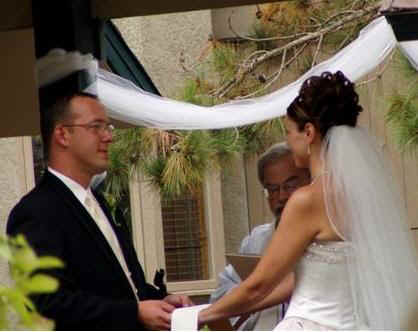 We wish to thank you for officiating our wedding this past September 13th, 2003. Words cannot express how blessed we felt to find you. During the planning process, we had researched many other wedding officiants in the Minneapolis/St. Paul area. I was raised Methodist and my husband was raised Catholic. We needed to find someone who would fit both our needs. With your Catholic background, you were indeed a perfect fit. No one else made us feel as comfortable and welcome as you did. Many of our guests were strong Catholics and had never been to a "blended" wedding before. I think they were skeptical and curious to see what it would be like. I cannot tell you how many compliments we received on the service. Everyone thought it was so unique and personable. It was like we knew you for years. The homily and blessings you gave were beautiful and so poetic. They felt as if they were written just for us. We greatly appreciated the times you met with us to discuss our future lives together. The counseling was helpful and nonjudgmental. We felt it was a good opportunity to discuss our relationship and focus on our strong points, as well as short comings. It also allowed us to discuss the logistics of the actual ceremony. Having never been married before, we needed guidance on how things should flow. Your suggestions were well thought out and worked well for us. We especially enjoyed the hand-bound wedding ceremony book you made us as a keepsake. Such a thoughtful gift! It will definitely be something we treasure for years to come. When we're old and grey, we will look through the pages and reflect on the perfect day you helped create. We would highly recommend your wedding services to anyone looking for a courteous and professional wedding officiant. Warm Regards, Tracee and Ken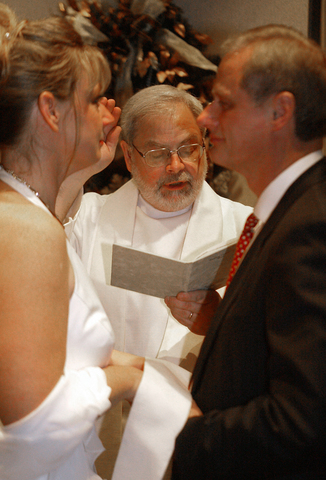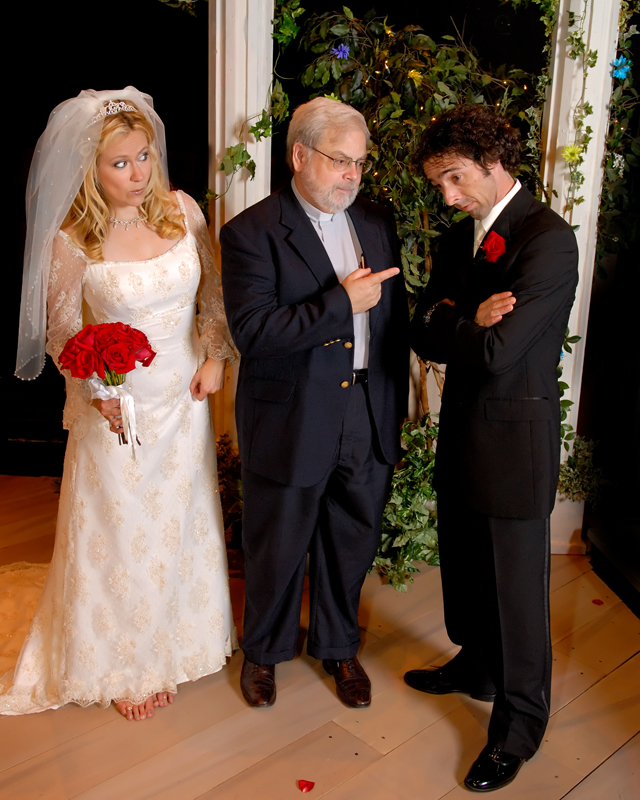 "...and another thing - if I hear you made Meagan cry, you'll have ME to deal with!"
Father Steve made our wedding day so special. He makes planning vows so easy and fun with his guided online form and open-minded attitude. He greets guests before the ceremony and sets an atmosphere of joy and love. During the ceremony he captivated the crowd and used the perfect mix of seriousness and also interjected humor and happiness. We could feel his love and support and genuine joy for our family and we loved having him be such a special part of our day. I highly recommend Father Steve and we're so grateful to him. Heather fromweddingbee.com
Fr. Steve was absolutely wonderful. He was one of my favorite parts of my whole wedding. We were having issues finding a SLIGHTLY religious, but very liberal officiant for our wedding. My husband comes from a very strict Roman Catholic family, where I come from is a very liberal, easy-going, Lutheran-based family. We don't go to church (except for my grandparents), and though I've been instilled with religious VALUES, we I was never pressured in any way regarding my decisions about my own faith. I was given the opportunity to make my own choices in what I believed. We wanted to honor my husband's family (considering, we already were having an outdoor wedding which is totally out of the norm for them!) without being overly religious and not representing ourselves. Father Steve was a former Roman Catholic Priest, and is now a minister for The Old Roman Catholic Church, which apparently is very different from the normal Roman Catholic Church.
When we first met him, I was ecstatic. He represented the religious part that we were looking for, but he was also this adorable little old man with an AMAZING sense of humor. He allowed us to choose our own ceremony by giving us a book of suggestions. We had absolute freedom in exactly what we wanted our wedding to be like.
He had great options, like doing a sand ceremony rather than a unity candle. I loved that because, not only did we not have to worry about a breeze being that it was an outdoor wedding, it also was another unique part of the event. We also had our guest renew their vows after we made our own. That was so awesome to watch all the people we love looking into the eyes of their spouse (and even some of the couples that were only engaged at the time) and vowing once again to love them for eternity.
It meant so much to both Charles and I to have a say in our wedding. And Father Steve brought personality like you wouldn't believe. He giggled with the guests when we got to part of our vows that said, "to play with you as much as I can until we grow old"... During one part of the ceremony, he was talking about how marriage was like a circus trapeze act. "The bride and groom love and trust each other so much that they're willing to take that giant leap and flyyyyy through the air". Just as he said that, a plane flew overhead and the guests all started chuckling. Father Steve looked at the sky, and said, "Thanks for the visual, God..." Later when someone asked how much he paid for that to happen at the perfect time, he responded... "That was all God's work!"
He kept it light, fun, but also infused religion in when needed. He honored our families by leading a prayer before dinner, and yet he made sure that everyone was having a great time, and kept everyone smiling.
I adore Father Steve and he comes sooooooo highly recommended by my husband and I!
Oh! And also, he does book binding, so for a very minimal cost, instead of using a notebook to read our ceremony from, he printed and bound everything in a beautiful suede book, personalized with our names and everything. It was something so extra special and beautiful and it's nice to read through that now - It really brings you back to that afternoon, and that is so very much appreciated!

-Mandi from weddingwire.com