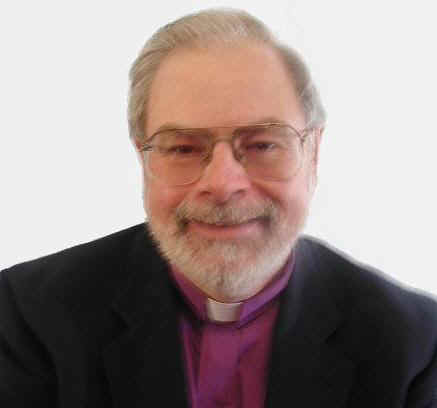 Fr. Steve Prokop
Fr. Steve's pastoral perspective can be summed up in a favorite quote he originated, a story and a comic script:
Quote: "On Judgement Day when everybody of every faith tradition (and no faith tradition) will be gathered together, there will be a lot of surprises. People whom we thought were model Roman Catholics may not end up in heaven; and people we know for sure won't get into heaven will be there."
Story: Every day Saint Peter meets the newly arrived at the Pearly Gates and shows them all the rooms of the Heavenly Mansion. He opens up door after door and introduces the people in each room to the new group. But Saint Peter skipped a door. At the end of the tour Saint Peter asks the group if there are any questions. Someone asked him why he skipped that one door. Saint Peter shrugged and said: "Oh, those are the Roman Catholics.* They believe they're the only ones in heaven, so we leave them alone."

*you can substitute other denominations or fundamentalist groups.
Comic Strip: Judgement Day revisited from my quote above: The reason why there will be surprises on Judgement Day is that Jesus will not judge us on the level of our faith (or lack of it), nor will he judge us on our orthodoxy or what denomination we belong to (or no denomination), nor will he judge us on believing in him,* but rather on how we treat other people. Does this sound pretty far "off plumb?" Read Matthew 25:31-40. We will be judged on "feeding the hungry, visiting the sick, welcoming the stranger," etc. In other words, treating others with kindness, respect and compassion.

Coincidentally, this way to salvation is also found in Judaism and Islam!

*Saint Paul tells us that we must believe in Jesus to be saved. Jesus never said we had to believe in him.
Having been ordained a priest in 1981 by the late Archbishop John Roach, Fr. Steve married after seven years of active ministry in the Archdiocese of Saint Paul/Minneapolis. He celebrated his 37th year of ordaination in 2018.

During Roman Catholic priesthood, Fr. Steve served in three parishes - city, suburban and rural. He has performed over six hundred weddings and over two hundred visitation and funeral services. Fr. Steve is licensed to perform weddings in Minnesota, Wisconsin and Colorado.
Wanting to return to active ministry to serve the People of God, Fr. Steve was accepted as priest in an independent Old Catholic denomination, American Apostolic Catholic Church, which like the Orthodox churches and Episcopalian churches, has apostolic succession, valid sacraments, a married priesthood and no annulments.
Fr. Steve has Master Degrees in History and Vocational Rehabilitation Counseling in addition to completing the five year Philosophy/Theology program at St. Paul Seminary in preparation for priesthood.
Having had a career in employment counseling in local government, Fr. Steve returned to ministry serving the People of God in their sacramental needs - weddings and baptisms - as well as visitation and funeral services in funeral homes. His special ministry is to those Roman Catholics who are alienated or have "fallen away" because of varied reasons - personal or doctrinal - or who feel that the Roman Church is just too "controlling" in their lives.
Fr. Steve wants to pursue graduate studies in Hebrew and Aramaic. He is also a self-taught hand bookbinder. He enjoys performing weddings and bookbinding (repairing and restoring old books and Bibles) - in other words, "hitch and stitch."


copyright by Mr. Joel Kauffmann and used with permission.
Visit Pontius' Puddle for more cartoons.